"Smart alternative music hasn't been all that hard to find out of the underground in the last year or two, but if you ask me, Julie Amici & Dean Mueller's I Loved You So is one of the more unique gems to debut this April for sure. … I would place a hefty wager on their finding some serious success with this offering, which I rank as one of the best in indie Americana this spring." – Loren Sperry, Music Existence – June 11, 2020
Album Review: Julie Amici & Dean Mueller "I Loved You So"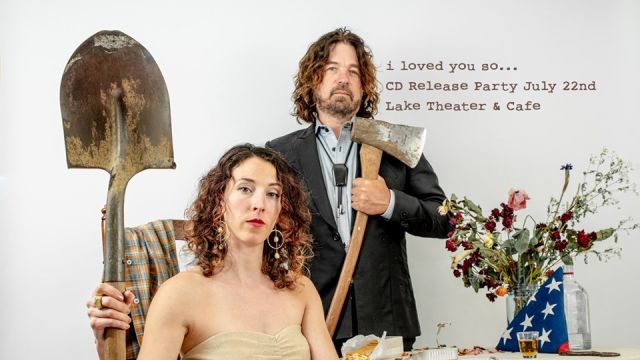 With a swaggering strut, a string melody comes into focus, suddenly enrapturing anything within earshot of its vibrant glow. This sensuous instrumental element is hypnotic to say the least, but once it comes into contact with Julie Amici's lead vocal for the first time, it doesn't stand a chance in the ensuing duel for our affections. This is "Frame it on the Wall," one of the chicer songs on the new album I Loved You So from Julie Amici & Dean Mueller, and much like its mates in the tracklist of this inspired LP, it was seemingly designed for the purposes of bringing a bit of evocative surrealism back to the left side of the dial this April.
Amici and Mueller have an amazing chemistry on I Loved You So, and whether Mueller is in the driver's seat, such as we find in "Turn the Key," or Amici is ruling the roost ala "Sardines and Saltines" or "Hot in the City," they never sound as though they're at war for our focus here. Instead, I think this pair plays off of each other's cues rather brilliantly – especially in songs like the title track, "Read Through Tears" and "I Wanted You" – and ultimately makes the most of their shared love of Americana more often than not.
"Flannel Shirt," "Blind Beulah" and "Daddy" are more harmony driven than "I Wanted You" or "Frame it on the Wall" are, but despite the stylistic differences between them, together these songs tell us everything we need to know about Julie Amici & Dean Mueller's collective depth as an artistic unit. They've got a lot of different ways they can break down a melody, and in I Loved You So, they show us as many as we can handle inside of eleven unique tracks.
APPLE MUSIC: https://itunes.apple.com/us/artist/julie-amici/1162817421?ign-gact=3&ls=1
I would have preferred a little more vocal presence in the mix of "Turn the Key" and "Hot in the City" than these two songs were afforded, but at the same time, I can understand why this duo went with the production style they did here. There aren't a lot of aesthetical equilibriums making headlines in 2020, but in the case of these tracks, I think Amici & Mueller were making a concerted effort to show us that crossover melodies don't have to rely on colorful crooning alone to sound and feel deep and emotional. In this sense, they might be the best songs on the LP (from a critical perspective, at least).
DOWNLOAD THE LP: https://deanmueller.com/ilovedyouso/
Smart alternative music hasn't been all that hard to find out of the underground in the last year or two, but if you ask me, Julie Amici & Dean Mueller's I Loved You So is one of the more unique gems to debut this April for sure. It's still a little early to tell how far this pair is going to go with their sound, but if I were a gambler, I would place a hefty wager on their finding some serious success with this offering, which I rank as one of the best in indie Americana this spring.
Loren Sperry