The Cascade Blues Association published and article about Julie Amici's performance at the September meeting and the original article can be viewed here.
Here is the text from the article:
For the second set of the night we will be presenting Julie Amici, last year's nominee for the "Best New Act" Muddy Award. Known for their spacious, intimate, and open sound, Dean and Julie have teamed up with Dan Gildea on guitar and Alan Jones on drums for their 2016 festival shows this summer. The addition of these two master performers have taken the band in a decidedly more powerful dimension suitable for the big stage. Alan Jones is also working as their producer for a new recording project coming out this fall.
"Julie Amici" is the collaboration between Julie and Dean Mueller that started in late 2014. Much like the name is a melding of the two, the music is much the same, combining Julie's country roots and childhood dreams of singing jazz, with Dean's deeply rooted blues foundation.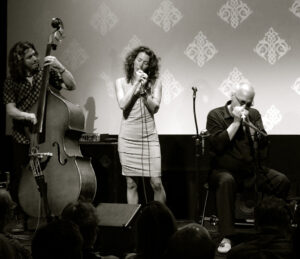 Julie's strong yet sweet voice is reminiscent of the 50's when female singers ruled the world of music, a time when jazz and blues co-mingled at the height of popular culture. Her repertoire combines the jazz of Billie Holiday with the soul of Nina Simone and the sophisticated country of Patsy Cline. Dean's bass playing is rooted in the blues chops he earned playing with some of the finest blues legends in America and touring with the award winning international act, The Insomniacs. Over the last couple years the pair has performed as a duo as well as collaborated onstage with some of the finest musicians in the Northwest including Curtis Salgado, Chris Carlson, Alan Hager, Dave Fleschner, Henry Cooper, Carlton Jackson, Mark Shark, and many others.
Guitarist Dan Gildea teaches jazz guitar at Portland State University and has a lengthy list of acts he has performed with in the area aside from Julie Amici, including recent collaborations and tours with Earl Thomas and Dave Fleschner. Alan Jones is one of the premier jazz artists in Portland with a long resume of places he has studied, taught and performed with, including the late Portland great Leroy Vinegar as well as leading his own sextet. The addition of Gildea and Jones to Julie Amici makes this a powerful line-up that surely speaks for itself.